Achieving A Smooth Loan Closing
Achieving a Smooth Loan Closing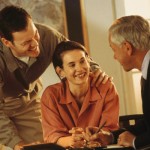 We recognize that every American has a choice when it comes to fulfilling their home finance needs. We are chosen by thousands of homeowners each year because of our reputation for recognizing the importance of delivering superlative customer service. We also recognize that for many Americans, purchasing or refinancing a home is the most important financial decision they will make in a lifetime. We believe that this transaction should be treated with the respect it deserves and that is our mission-to make the American Dream of Homeownership a reality as part of a very enjoyable experience.
You Can Help!
A smooth and successful closing experience is our goal. One of the keys is working as a team throughout the process. You can help your team help you in several ways:
When we contact you with questions or additional documentation, a quick response is important. Often times the process can be slowed considerably if we don't receive an answer expediently.
If there are any changes in your financial situation or within the transaction, please notify us as quickly as possible. While the changes may not have a bearing on the work we do, sometimes we will have to make adjustments because of changing circumstances and we can only do so when we are informed of such changes.
Forward any documentation you receive or documentation requested by us as quickly as possible. For example, we should receive a copy of your new insurance policy early in the process so that we can review the document. You can use any insurance company to insure your home, however, if you would like a recommendation from us, contact us and we will be happy to help you in this regard.
If the expected date or time of loan closing changes, please contact us immediately. Any change in timing may cause details of the transaction to be adjusted and any delay in notification could cause the closing date to be delayed further.
Make sure you ask any questions on your mind. It is not a bother to answer questions from our clients, it is a privilege.
Our goal is to keep you informed throughout the process. We will be available to answer questions and respond to your requests as quickly as possible. It is very important that you have an enjoyable closing and we will work as hard as possible to make this goal a reality.
Brought to you by: Karen Lyn Keyser | The Funding Master
238676